United States Government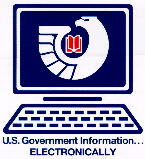 ---
Mary H. Weir Public Library is a Federal Depository Library (Depository Number 0655A), one of about 1400 Federal Depository Program libraries designated by Congress to make United States government publications and information readily available to the public.
A lot of government information is now available on the Internet! This makes it more convenient for citizens, and also saves tax dollars (Internet "publishing" is cheaper than paper publishing). The same is true for information from states, including West Virginia. These pages, we hope, will link you to the most-often-requested information.




This page was last updated July 31, 2001.